Runners and cyclists, commuters and tourists, Staten Islanders and Brooklynites…No matter who you are, you've made it clear: you want to be able to walk and ride over the Verrazano Bridge!  Hundreds of the Harbor Ring's supporters have commented on our petition for a multi-use path on the bridge: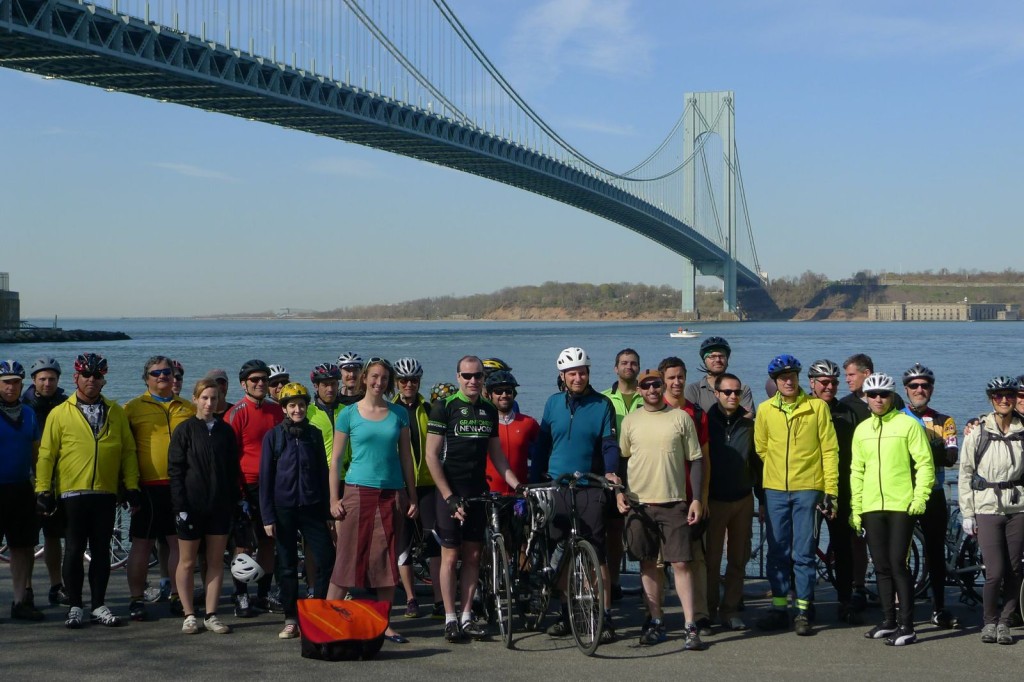 "This is important to me because public transportation off and on Staten Island is limited. I have wondered for a long time why there isn't already a pedestrian path across the bridge, since most NYC bridges do allow pedestrians. This would certainly make travel to Brooklyn much easier especially when money is tight." -Vincent, Staten Island
"Alternate access to parks and historic sites in Staten Island besides the roundabout way using the crowded ferry that has a limited schedule."  -Emily, Brooklyn
"I live in Staten Island and it would be way more convenient for me to bike across the bridge to buy food or visit friends and family members." -David H. Staten Island
"As a native of SI and now a Bay Ridge resident who is carless, this would be a life saver for getting back home, without spending the 1.5+ hour bus trip."  -Andrea, Brooklyn
"I just attempted to walk all five boroughs yesterday, only to find out that pedestrians are not allowed on the Verrazano Bridge! What a disappointment after 25 grueling miles! Please finish the bridge. Thank you!"  -Jason, Liverpool, NY
"For increased happiness and a transportation opportunity that is cheaper and an exercise-induced, healthier option to get to my work on Staten Island. I think it also would allow for increased economic opportunities as well."  -Megan, Brooklyn

Let us know your own reason on Twitter @TheHarborRing: Why do YOU want to walk and ride over the Verrazano?
"Putting a pedestrian and bike crossing on the Verrazano Bridge is a wonderful idea — the bridge needs it, and I'm certain New Yorkers would love it and use it….I encourage the MTA and City officials to at least take a look at the potential and determine if it could work."
~Brooklyn Borough President Marty Markowitz, October 4, 2014
Did you ever think about what great photos of Manhattan you could take on the Verrazano Bridge?  Have you wanted to ride your bike in a complete circle around the New York Harbor, traveling through two states and three boroughs to end up right back where you started?  Did you ever wish you could cross from Staten Island to Brooklyn without paying a toll, catching a bus, or dealing with traffic?
We're the Harbor Ring Committee, and we want to make these wishes a reality.
The Harbor Ring Committee has been working since 2011 to promote a 50-mile loop of bicycle and pedestrian infrastructure encircling the New York Harbor, including the main missing link: a multi-use path across the Verrazano-Narrows Bridge. Through our petition for a Verrazano Bridge multi-use path, our regional route map, and our tireless collaboration with organizations and individuals throughout the New York City metro area, we want to improve safe access to affordable transportation within the region.  By connecting New Yorkers and tourists alike to the Harbor Ring route's most iconic destinations, best recreational opportunities, and most unique local businesses, the Harbor Ring will foster increased economic activity and active living.
In 2014, the Verrazano Bridge turns 50 years old, bringing to light a half century of demand for a walkable, bikeable path.  We'll be announcing some exciting plans to make sure our voices are heard–stay tuned!