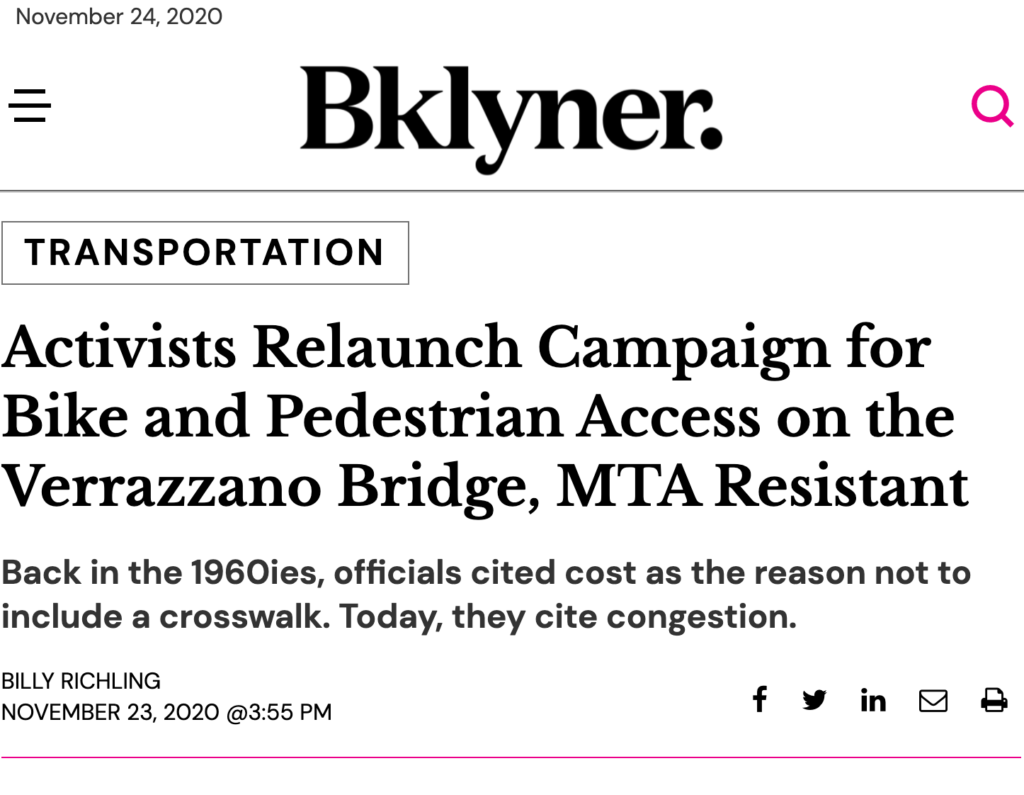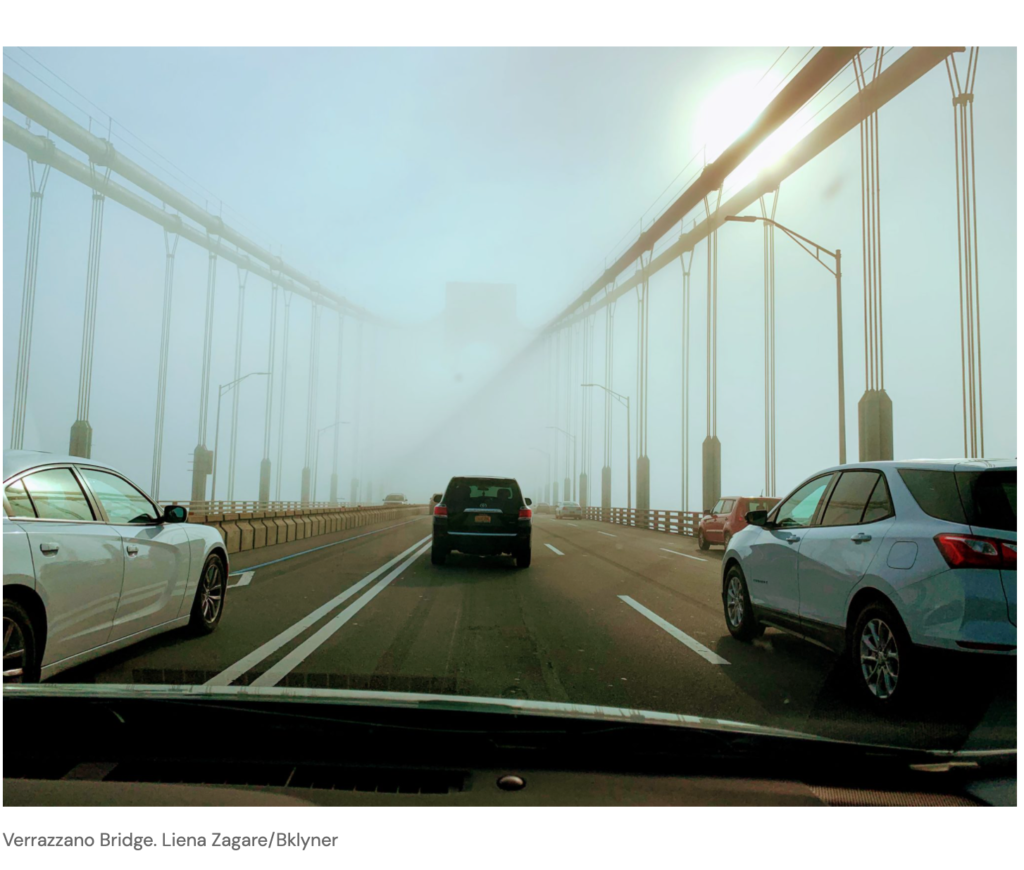 After the relaunch of the joint campaign with Transportation Alternatives and Bike South Brooklyn, an article by the Bklyner covered highlights of the event. Click here to read the full story.
Thank you to all who joined us last Saturday for a successful video launch of Voices for the Verrazzano. We have lots of work to do, but we're excited for the relaunch of this campaign with our partners at Transportation Alternatives and Bike South Brooklyn.
If you missed it, check out the recorded version courtesy of Anna Lise Jensen (Bike South Brooklyn)!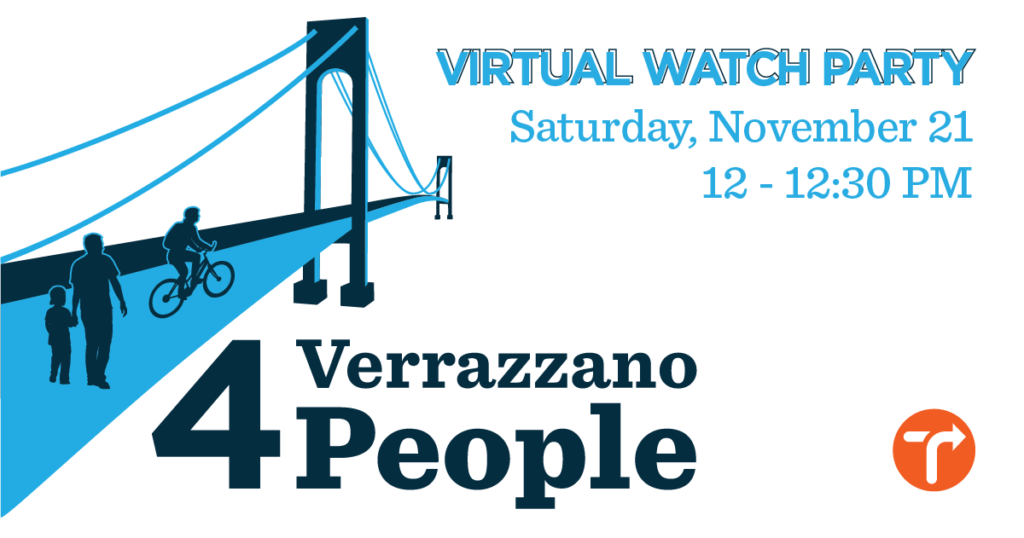 It's the Verrazzano's 56th birthday on Saturday, November 21st, 2020! In honor of this day, we will be hosting a remote "nonopening" event (since the bridge was never open to pedestrians and bicycle riders like its initial plans had included).
Join us, Transportation Alternatives, and Bike South Brooklyn for a virtual watch party where we will speak about why we advocate for pedestrian and bicycle access on the Verrazzano, feature a 5-minute video of community organizations, our councilmen, and locals like yourselves who support our cause, and have an open discussion with a moderator answering your questions concerning this issue at hand and what you can do to help! Hope to see you there!
Live stream at: bit.ly/OpenTheVNB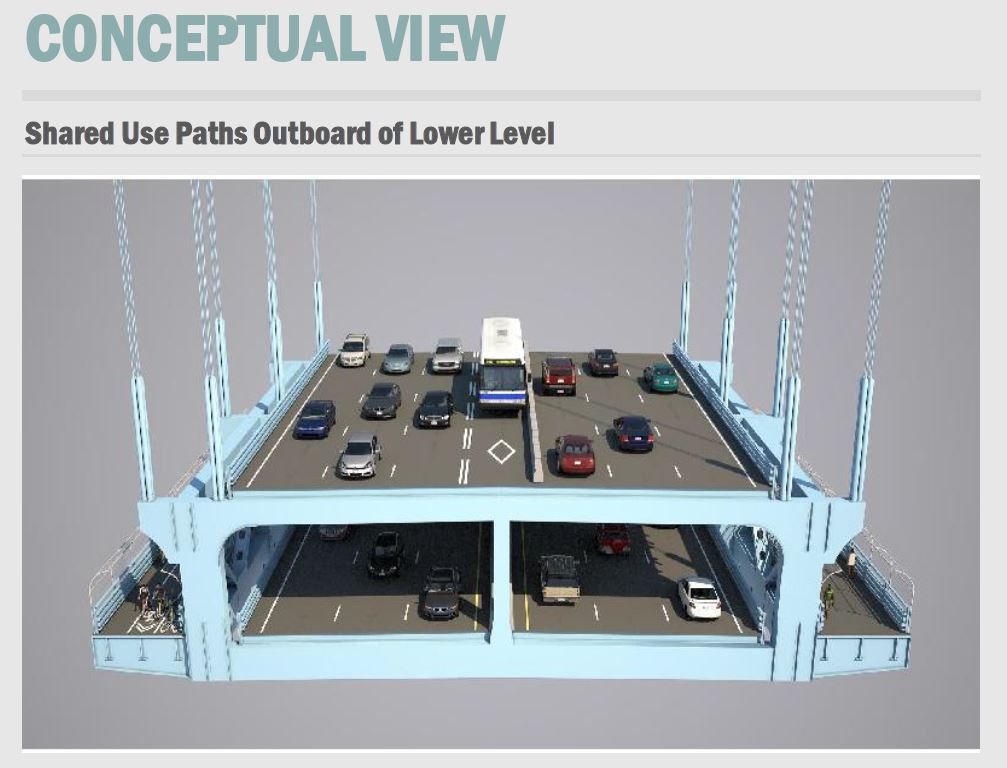 The Metropolitan Transportation Authority (MTA) recently released a preliminary report on its Verrazano-Narrows Bridge Master Plan — including conceptual views of possible shared-use paths on the bridge.
The current proposals are much more ambitious than previous bridge path designs, and the costs reflect that – estimated to be between $300 and $400 million. The encouraging part is that the MTA has seemingly put real effort and resources into finally building a walking and bicycling connection between Staten Island and Brooklyn.
You can view the entire MTA presentation HERE.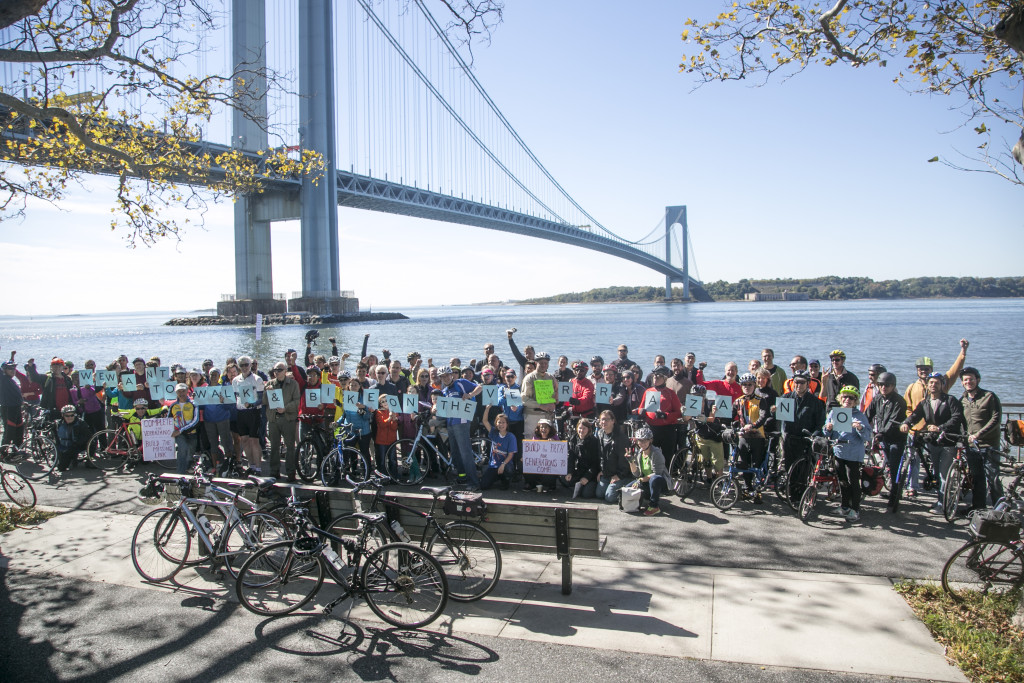 Over 200 supporters joined us in Bay Ridge to show support for a pedestrian and bicycle path on the Verrazano-Narrows Bridge! Much thanks to Senator Marty Golden, Councilman Vincent Gentile, the Bay Ridge Merchants of Third Avenue, the Staten Island Athletic Club, the Staten Island Bicycle Association, and the Five Boro Bicycle Club for lending their voices to the cause!

Since the Verrazano-Narrows Bridge was built over 50 years ago, elected officials and community leaders from both Brooklyn and Staten Island have called for a connecting path for people on foot and on bike. Now, thanks to a current construction project, New York has the chance to make this long-awaited path a reality!
Join Transportation Alternatives, the Harbor Ring Committee, elected officials, and community leaders as we rally in support of building a pedestrian and bicycling path on OUR Verrazano-Narrows Bridge!
---
What:
Rally for a Pedestrian & Bicycle Path on the Verrazano-Narrows Bridge
When:
Saturday, October 10th at noon
Where:
Shore Parkway (the the end of 4th Avenue)
Bay Ridge, Brooklyn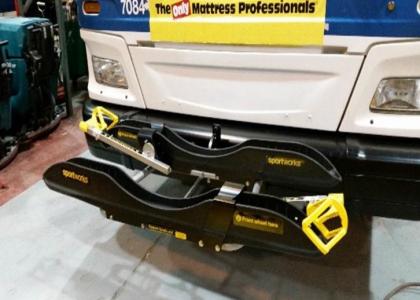 Starting on Sunday, September 6, MTA New York City Transit will add bicycle racks on two Staten Island bus routes, the first time that such equipment has been made available for public use on NYC Transit.
The yearlong Bike & Ride pilot will roll out on the S53 and S93 routes, which run between Staten Island and the Bay Ridge section of Brooklyn over the Verrazano-Narrows Bridge. The two lines were chosen for their safe access to current and planned bicycle paths, ridership and routes, which serve a major college campus where bicycling is a popular commuting option.
"Bringing the Bike & Ride program to the S53 and S93 will increase the mobility of students who are traveling between home and campus. Before this program, our customers had no direct way to travel with their bicycles on public transportation between Brooklyn and Staten Island. Now customers can take advantage of the city's bike lanes and greenways without worrying about how to transport their bicycles," said Darryl C. Irick, President of MTA Bus and Senior Vice President, NYC Transit Department of Buses. "A future expansion will depend on results of this pilot and will most likely focus on routes that cross bridges."
Full MTA press release is HERE.
The Harbor Ring applauds the MTA's efforts to introduce bicycle racks on the S53 & s93 bus routes. It is a welcome addition to the city's growing infrastructure for both current and future cyclists. We are certain Bike & Ride will be a success, just as similar programs have been in cities all over the country that have long had bike racks as standard equipment across their vehicular fleets. However, one bus carrying two bicycles is by no means a solution for our city's overwhelming transportation deficiencies. We continue our campaign urging the MTA to create separated bicycle and pedestrian pathways across the Verrazano-Narrows Bridge that would offer toll free connectivity between Brooklyn and Staten Island.
Join the Harbor Ring and the Merchants of Third Avenue on Thurs, Nov 20th, 7:30 PM-9:30 PM at Bay Ridge's Yellow Hook Grille as we celebrate the Verrazano Bridge's 50th birthday!
Raise a glass to the history of the campaign for a Verrazano Bridge bicycle/pedestrian path and get excited about the Harbor Ring's new efforts to make it a reality.  A $25 ticket gets you unlimited beer, wine, soda, and hors d'oeuvres.
BUY YOUR TICKETS TODAY!  We can't wait to see you there!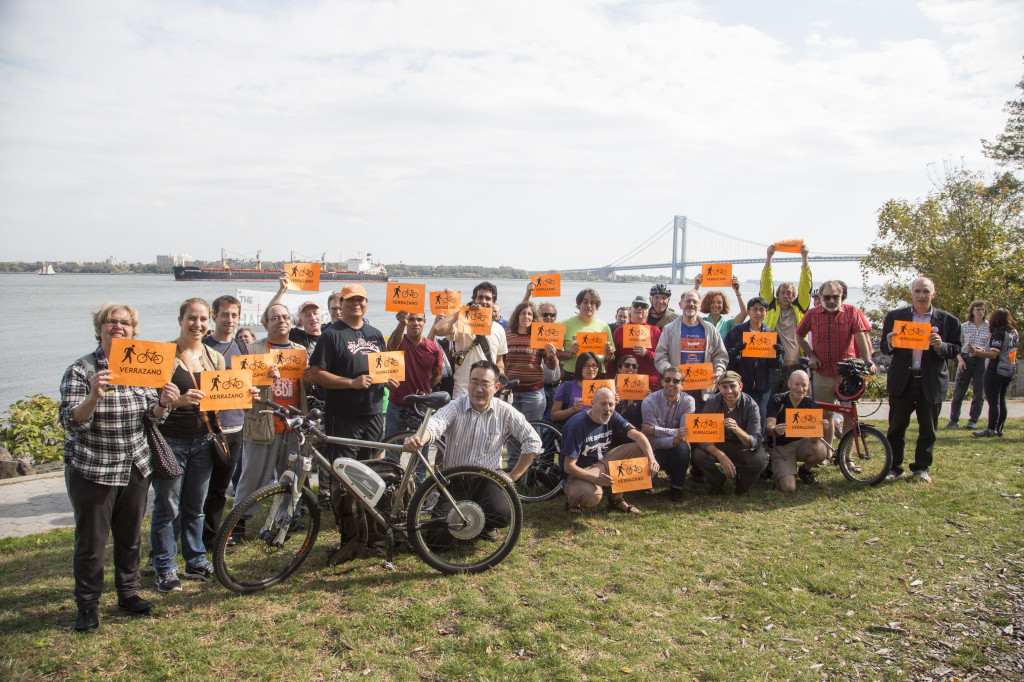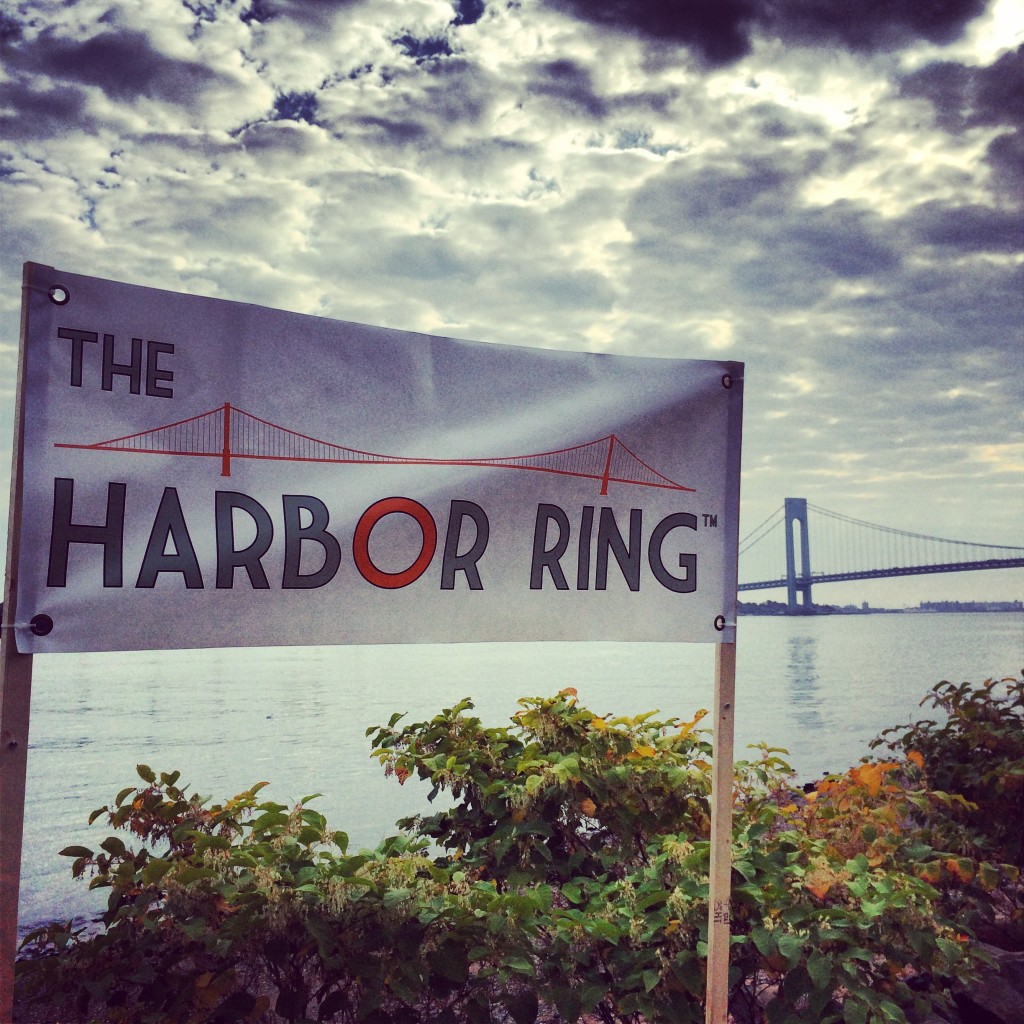 A big thank you to all who attended Saturday's rally for a Verrazano Bridge pathway!  The Harbor Ring welcomed almost 150 advocates to the Alice Austen House on that beautiful October morning.  We created quite a buzz the week prior, with press from the New York Times, CBS, and NBC, and grew to over 3,600 signatures on our petition.  Check out more at harborring.org/presscoverage!
The Harbor Ring was honored to see the overwhelming support from the community, as well as from city and state leadership.  We heard from:
Senator Marty Golden
Allen Cappelli, MTA Board
Laura Barlament, Transportation Alternatives SI Activist Committee Chair
Janice Monger, Executive Director of the Alice Austen House
Douglas Adams, COO of Metropolitan Waterfront Alliance
Councilmember Vincent Gentile 
Mike Shane, SI artist and photographer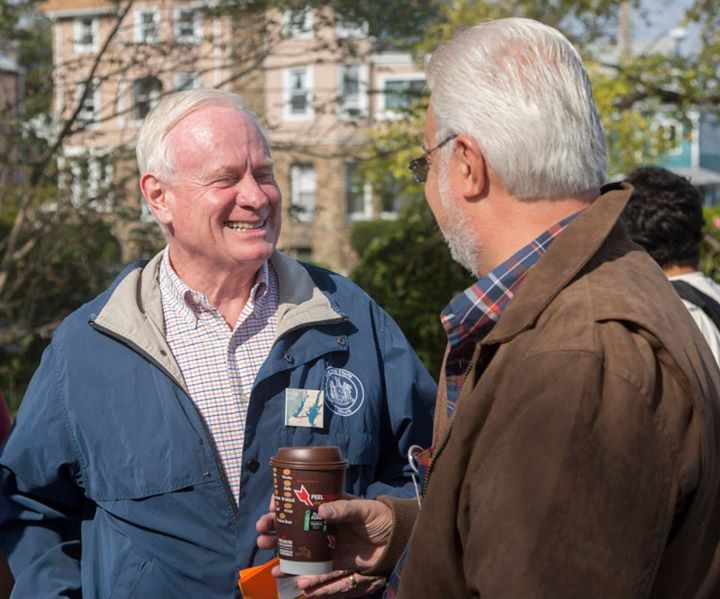 Mark Vogt, President of SI Athletic Club
Valene Hathaway, NY Wheel Associate
Assemblymember Michael Cusick
Senator Golden of Bay Ridge gave strong words of support, acknowledging a Verrazano–Narrows Bridge bike/ped path "is long overdue."  MTA Board Member Allen Cappelli echoed the sentiment, declaring, "I believe it is the right thing to do."  Even Assemblymembers Nicole Malliotakis and Joseph Borelli, and Brooklyn Brorough President Eric Adams, who were not able to attend, passed along their words of support for a Verrazano path. 
Advocates jumped at the chance to show their support: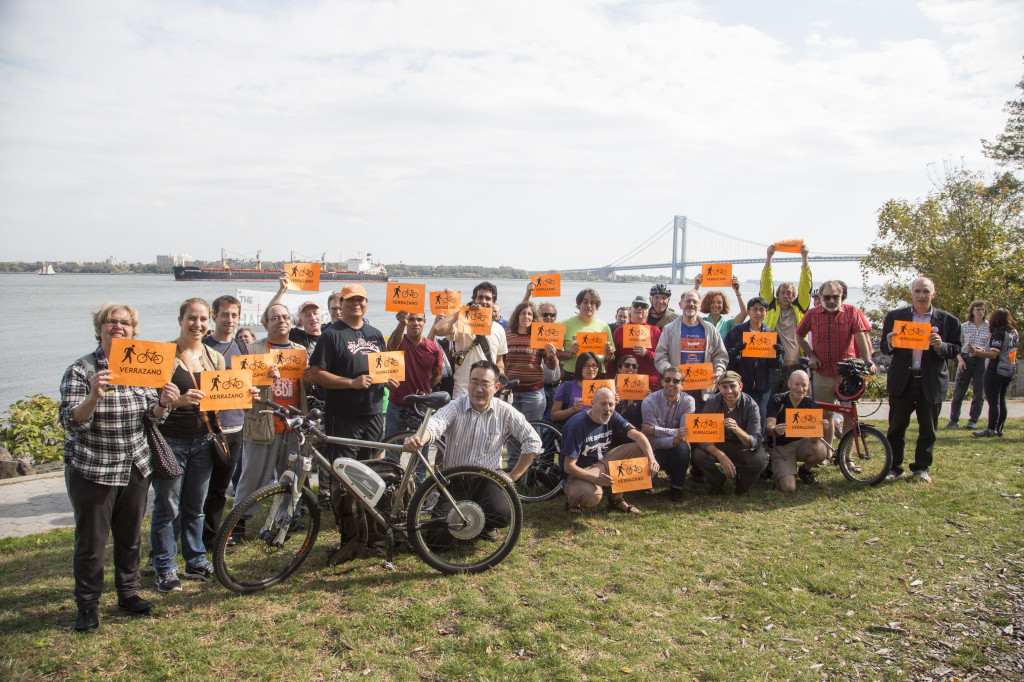 And we couldn't have done it without our awesome volunteers: Linda, John and Roy from the SI Bicycling Association, and John from the T.A. SI Activist Committee!
More amazing photos of the day can be found at http://bit.ly/HarborRingRallyPics, and on Twitter under #WalkBikeVerrazano.  Video clips are also on our Facebook page.  Stay tuned for more ways you can take action and get involved in the Harbor Ring!
Thanks again to our awesome advocates, our excellent elected officials and community leaders, and our super supporters for making the Harbor Ring's rally for a Verrazano Bridge path a success!  With your help, we will build this path once and for all!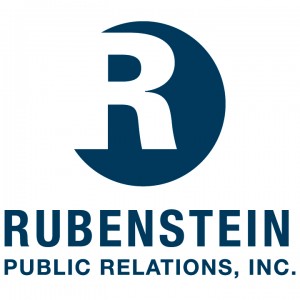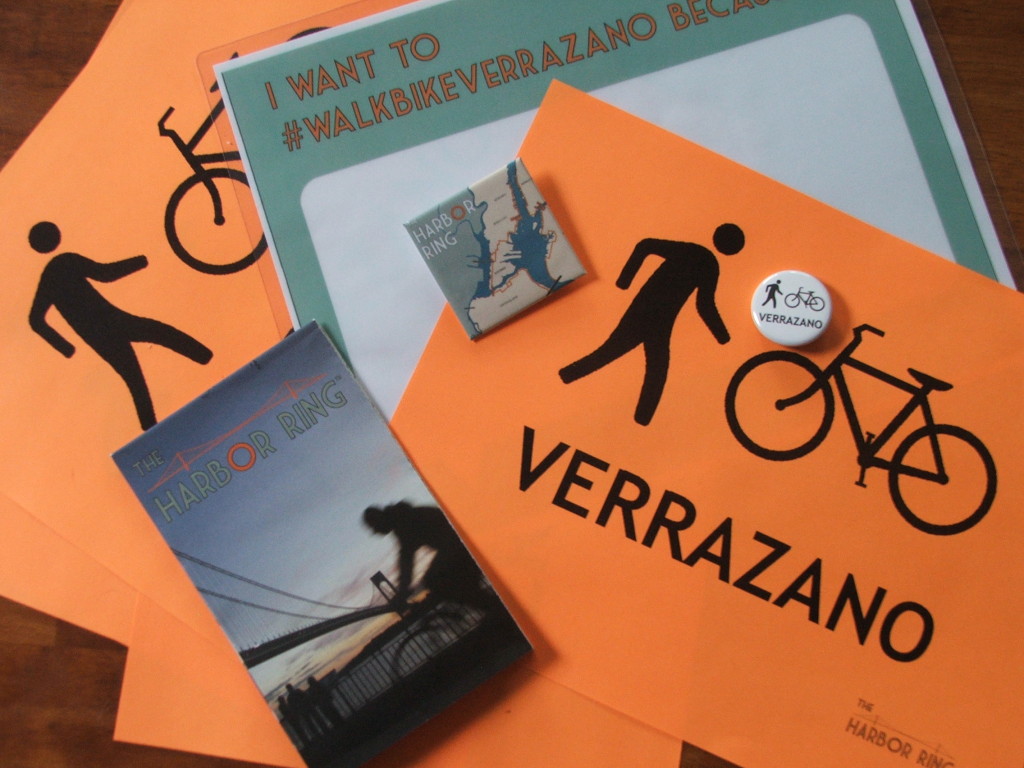 The Harbor Ring's rally is ON for tomorrow, Oct 18!  Bring your spirit, your camera, your friends, and make some noise for a bicycle/pedestrian pathway over the Verrazano Bridge!  Get there bright and early to pick up an official Harbor Ring map and a limited-edition "Walk Bike Verrazano" button.  Share thoughts and photos of the day with #WalkBikeVerrazano and @theHarborRing.  Enjoy our amazing lineup of speakers and advocates:  
Paul Gertner, Harbor Ring
Douglas Adams, COO, Metropolitan Waterfront Alliance
Laura Barlament, T.A. SI Activist Committee Chair
Councilmember Vincent Gentile, 43rd District in Brooklyn
Mark Vogt, President, SI Athletic Club
Valene Hathaway, Associate, NY Wheel
Eric Adams, Brooklyn Borough President
Assemblymember Michael Cusick, 63rd Assembly District in SI
And above all else, get ready to have a great time!